Which brand would top in your list while thinking about a Distance Measuring Device (DMD)? Survey says the answer would be Bushnell because more than 97% of PGA Tour golfers use Bushnell rangefinders. Each of their rangefinders performs better in the market than other brands. Tour V5 is no exception. This rangefinder will be the best choice if you search for a highly durable golf laser rangefinder under $350.
Like the Tour V4 golf rangefinder, the Tour V5 is also available in two variants. One is with a slope feature named Tour V5 shift, and the other variant doesn't have any slope feature. Both the models ensure accurate distance readings using pin-seeking technology. In this article, you will get a complete review of Bushnell Tour V5.
Bushnell Tour V5 Review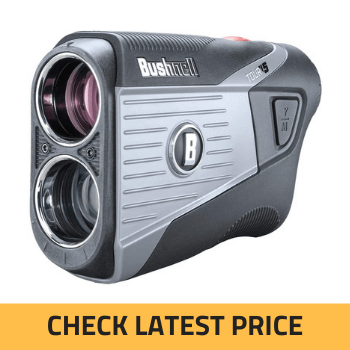 Bushnell launched tour V5 in the market back in March 2017. Unlike the black and white combination of tour v4, the Bushnell tour v5 rangefinder has a full black texture. That gives a more premium look than Tour V4.
You will get a hard carrying case and a golf towel along with the rangefinder in the package. The protecting case is convenient and protects the device from accidental fallout and raindrops.
Like the premium look, the performance of the device is premium too. It has the latest pin-seeking technology with a visual jolt. You can be very sure about the target as the visual jolt gives a red blink and vibration too when it locks a target. 
With the 6x magnification, you can have a clear view of nearly 1300 yards. The Bushnell V5 has a 5-400 yards range to flag.
What you will get in the package:
Tour V5 Golf Laser Rangefinder,
Golf Divot Tool,
Two (2) CR2 Batteries,
Carrying Case
Microfiber Towel
Performance review
Golfers love the jolt technology, which is a trademark for Bushnell. You will be enjoying the updated technology of Jolt called visual jolt. This feature displays a red ring as well as gives a vibration when the device locks a target.
So it's easy to make sure the flag you are targeting is the right one. Additionally, you can access results in 2 different metrics; yards and meters.
Users of the V5 rangefinder are mostly satisfied with its performance. You will love the readings of the tour V5. The results are very much accurate. You will hardly find any difference with the measurement reading of Pro XE and Tour V5. The Tour V5 costs less than Pro XE, and it has no issues with the slope feature. You can use this rangefinder in competitive matches as well.
Besides, the black and grey color combinations give a premium look to this rangefinder.
Key features to enjoy from Tour V5
Pinseeker with JOLT Technology
6x magnification
Range: 5-1,300 yards
Ranging Accuracy: 1 yard
Display: LCD
Power Source: 3-Volt Lithium (CR-2)
Technologies that will benefit you
Bushnell often tries to provide the best technology in its products to ensure quality as well as performance. Tour V5 has some built-in technologies that are worth mentioning. Because these technologies have made this device portable, comfortable and accurate.
You need not carry the Tour V5 in your hand always. Because it has a magnetic mount known as BITE technology, this feature allows you to attach your rangefinder to any magnetic source like a cart and roam around handsfree.
Pin-seeking jolt technology plays a crucial role in calculating the distance in rangefinders. The pin-seeking technology helps lock the target properly so that the device can do the calculation with better accuracy.
Magnification technology is the zooming technology in reality. This technology helps you to see distant targets clearly and easily. The latest rangefinders offer a 7x magnification feature, whereas 5x magnification is a standard scenario in other rangefinders.
Pros
Pinseeker Jolt with 6X magnification
You can see results in different metrics.
Bite magnetic mount
Does Bushnell Tour V5 have a slope?
The Bushnell Tour V5 does not have a slope. But the other variant, called tour v5 shift, has a slope. Slope calculation helps a lot in having a better idea of the power and club needed to reach your goal. You may use this feature in regular gameplay or practice sessions but not in competitive matches. According to USGA's updated rules, the use of slope in distance measuring devices is not legal.
What is the difference between Bushnell V4 and V5?
Range, accuracy, and outlook are the significant differences between Bushnell V4 and V5. The Tour V5 has outperformed the Bushnell V4 in each segment. Moreover, the Bushnell Tour V5 rangefinder costs less than Tour V4. Additionally, Bushnell Tour V5 has advanced technology with more range.
Final Verdict
The Tour V5 laser rangefinder from Bushnell is the best value rangefinder we recommend. It is full of some essential technologies and well builds. It is simple in outlook but performs distance measurements and complex calculations like slope very efficiently and accurately. Not just accurate, it is fast too. Though the Po XE is the best laser rangefinder from Bushnell, the Tour V5 doesn't belong much away, especially when you consider the price against the value.