Darrell's survey shows 97% of golfers use Bushnell. That is why Bushnell Golf is the number one brand for golf rangefinders. They are leading the sports optic industry for over 50 years now. And that has been possible for great quality products like golf laser rangefinders, GPS watches, accessories, and many more.
Bushnell has a wide range of products. Rangefinders like Tour V4, Tour V5, Pro XE, Pro X2, ULT-X, etcetera belong to Bushnell. You will find your desired rangefinders in Bushnell. In this article, we will be reviewing the Bushnell V4 Jolt and help you decide whether you should buy it or not.
Be careful while buying a Tour V4 because it has two different types of rangefinders; one with a slope feature named "Tour V4 shift" and the other one that doesn't consist of a slope is called "Bushnell V4 Jolt."
Bushnell Tour V4 Jolt Review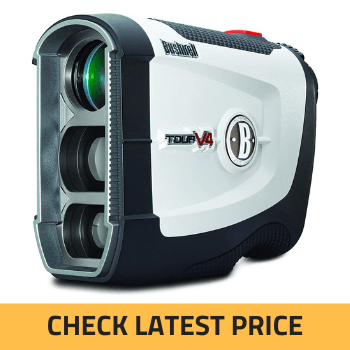 The Tour V4 is one of the best rangefinders for targeting flags under 400 yards because it provides consistent and accurate 1-yard measurement. With the Pin-seeker jolt technology used in this rangefinder, you will be sure about your locked target as it vibrates when locked. Due to the compact, ergonomic, and light design, the V4 is very easy to carry almost anywhere.
You will get free access to Bushnell Golf App with the Tour V4 laser golf rangefinder. With the app, you get layouts and flyovers of more than 36,000 courses in 30 countries. The app provides 3D flyovers with distance.
What's in the package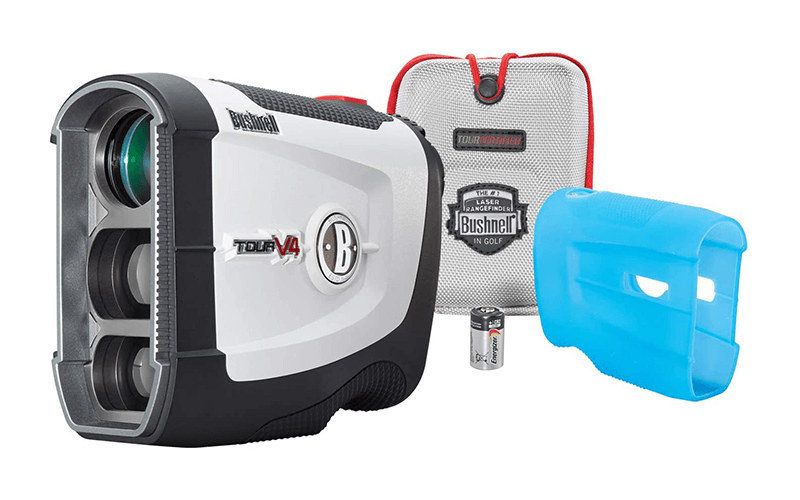 Rangefinder
Protective skin
CR2 battery
Carry case
Class 1 laser with less than 0.5 mW average power output
Performance Review
When it comes to performance perspective, Bushnell always does its best. As mentioned earlier, Bushnell has been leading the market for more than 50 years, and that's only because of their products' performance. The Tour V3 was popular back then for its consistency and accuracy. The V4 is nothing less than V3.
The first impression lasts long. You will be impressed with the black and white ergonomically designed Tour V4. Not just the outlook, the Tour V4 sets in hand very comfortably due to its compact size. Besides, the button on top of the device is effortless to use, and you can operate the rangefinder one-handed.
You can trust the distance readings of Bushnell rangefinders because Bushnell uses Jolt technology mostly. Jolt Technology allows you to be sure about the target you are aiming for. With the help of JOLT technology, your rangefinder vibrates while it locks the target. This feature eliminates all of your doubts and ensures that you have targeted correctly and the readings are correct.
With the 5x magnification feature, you will have a clear view of 1000 yards and target a flag within 400 yards. Besides, The tour v4 has a fast focus system. So, it won't take much time to pick the target and calculate.
So here are the critical performance features you will enjoy using the laser rangefinder.
Key features to enjoy from Tour V4
Pinseeker with JOLT Technology
Accurate to 1 yard
Ranges 5-1 000 yards
400+ yards to a flag
5x magnification
Fast focus system
Is the Bushnell Tour V4 jolt tournament legal?
Yes, Bushnell Tour V4 is tournament legal because Tour V4 doesn't have a slope calculation feature. According to rule 4.3a updated in 2019 by the USGA, you can use any golf course equipment. That includes distance measuring devices like GPS and rangefinders, too, with some conditions applied, which means the Bushnell jolt is legal for the tournaments.
Is the Tour V4 rangefinder comfortable to use?
The Tour V4 laser rangefinder is comfortable to use. Its ergonomic design using Stabi-Grip technology allows you to operate the rangefinder single-handedly. Moreover, the package includes a premium carrying case. You can keep the rangefinder safe in case when not in use. And it will sit in your hand very comfortably.
Pros
Bushnell Jolt is tournament legal.
Locks target using pin-seeker jolt technology.
Compact size, portable and rainproof
Cons
Lower magnification capability
Changing batteries seems a problematic issue.
Do I need a slope on my rangefinder?
Whether you need a slope or not depends on your skill and preference. If you are a beginner, we suggest using a slope in practice to improve your skill and performance. If you are a professional golfer and select the best club for a shot by guessing the distance accurately, you may not need slope on the rangefinder.
Your guesswork will improve with experience. Though you have to compete in golf without slope, it will help you a lot in your early days.
| | | | | |
| --- | --- | --- | --- | --- |
| | | | | |
| | Bushnell Pro XE | Bushnell Hybrid | Bushnell Tour V4 Shift | Bushnell Tour V4 |
| Range to a Flag | 500+ Yards | 400+ Yards | 400+ Yards | 400+ Yards |
| Slope with Elements Compensation | ✓ | | | |
| Slope Compensation | ✓ | | ✓ | |
| Slope-Switch | ✓ | | ✓ | |
| PinSeeker with Visual JOLT | ✓ | | ✓ | |
| PinSeeker with JOLT | ✓ | | ✓ | |
| Magnification | 7x | 5x | 5x | 5x |
| Integrated BITE Magnetic Cart Mount | ✓ | | | |
| Waterproof | ✓ | | | |
| Water Resistant | ✓ | ✓ | ✓ | ✓ |
Should You Buy Bushnell Tour V4 Jolt Golf Laser Rangefinder?
You should own a Bushnell Tour V4. If you are an advanced golfer and confident enough to play without slope calculations, the Tour V4 would be the best choice for you. You can carry this rangefinder in the tournaments as the Bushnell Tour V4 is tournament legal. This laser rangefinder is stylish, comfortable to use, and full of useful features like Pin-seeker and Jolt. You must be looking for such a perfect blend. The inclusion of slope could have been better for the beginners, but you can consider it, isn't it?
I hope you enjoyed our review, and it helped you to learn better about the Bushnell V4. Drop you helpful questions (if any), and we will respond.