Pay less, get more.
That's the motto when you are unsure about risking your investment in owning a golf rangefinder. If you agree with the statement, this is the article where you get a review of the best affordable golf rangefinders for the money. This article would help you decide whether you should spend more or not.
Due to the rising demand for affordable rangefinders, there are numerous rangefinders available in the market. Most of the rangefinders have similar features. As a result, it gets challenging to choose from them, especially when the budget is low.
In this article, we will be sharing our review of those rangefinders to help you decide. Besides, we will share our thoughts on the frequently asked questions about golf rangefinders found on the internet.
9 Best Affordable Rangefinders in 2022
Among thousands of models and hundreds of brands, we picked the best value rangefinder for you. We spent hours researching them, analyzing them, reviewing them, and coming up with the best possible suggestions for you so that you need not spend much time deciding your perfect match for the rangefinder.
Here are the ten best cheap rangefinders for golf we found in our review.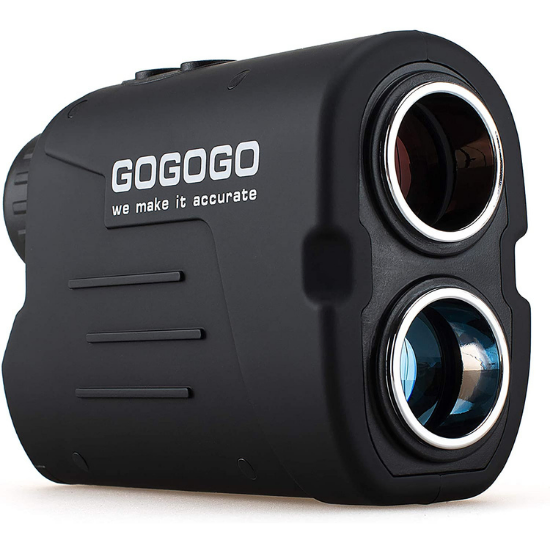 The Gogogo is an excellent value for the money. You can measure distance up to 900 yards very easily with the Vpro laser rangefinder. It has a premium look and some beneficiary features like pin-seek, flag-lock, JOLT Technology, and Slope Distance Correction. Above all, you can use this rangefinder for golfing and hunting as well. Such features under the $100 segment are lucrative.
The Gogogo Vpro Sport comes with 3 different modes to ensure correct distance measurement on every occasion. Speed mode is good for hunting, Golf mode is a perfect match for use in golf courses and a normal scan mode is an ideal option for another distance measurement. Moreover, features like slope and jolt can be used in several modes as well.
This newest GS03 is equipped with the most advanced golf rangefinder technology. Pin-seeking and flag-lock tech let you know the exact distance to swing. And when you lock to the target, pin, flag, or anything else, the JOLT tech would vibrate to remind you, and the data will appear in front of your eyes. clearly. Last but not least, the very helpful Slope Distance Correction function, the SDC function would help you swing in the right distance.
There is no need to worry about taking proper care of the device as the package includes everything you may need. You shall get a pouch, strap, clean cloth, and operation manual in the package.
Features
It can be used for both golf and hunting
Come with 3 Modes; Normal Scan, Golf Mode, and Speed Mode
6x magnification with a clear view
Includes technology like pin-seek, flag-lock, JOLT, Slope Distance Correction
Provides fast and accurate measurement with 1-yard accuracy
You can easily switch from yards to meters with a button.
Things we liked
You can use this for both golf and hunting
It is very easy to use
It features advanced golf technology
Things that can be improved
Provides inaccurate results when the background is unclear.
Final Verdict
This is one of the best cheap rangefinders that can be used for golf and hunting. It performs better for hunting but its performance in golf can't be neglected.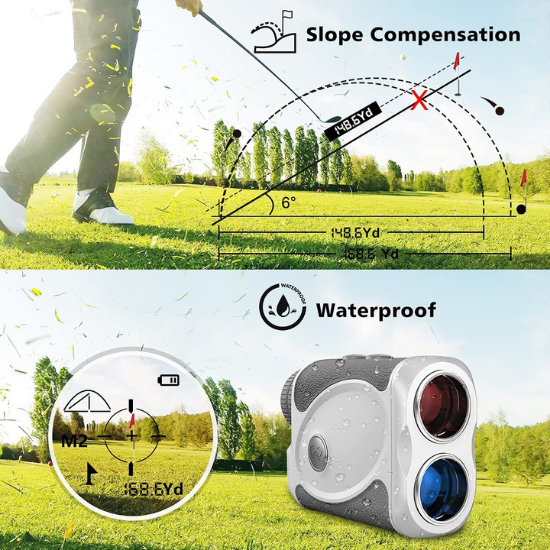 Lots of laser rangefinders and pretty similar features may confuse you to choosing the best golf rangefinder. If you doubt spending big on top rangefinders at the earlier stage of your golfing career then, the Wosports H111 is a gadget for you. Because it has basic features like distance calculation and flag acquisition at a very affordable price.
Wosports is not an old brand in golf. They have golf rangefinders, hunting rangefinders, and trail cameras in their portfolio. And the list is growing slowly. Till now Wosports have introduced 4 cheap rangefinders and all of them are under the $200 price range.
The device has a flag locking feature. It vibrates automatically when locked onto any target. Besides, that will enjoy several modes like continuous scan, speed measurement support along with distance measurement.
Features
Magnification: 6X
The Wosports H111 has multi-coated lens coatings
It has a Built-in Rechargeable Lithium-ion 3.7V 750mAh battery
Low Battery Indicator: Yes; you can be aware of when to charge your device
Flag-lock: Yes
Scan Mode: Yes
Water Resistant: Yes
Things we liked
Digitally enhanced accuracy, high-speed and accurate reading
The device is easy to use
It features built-in slope technology
Things that can be improved
Difficult to lock the target
Final Verdict
If you have steady hands this one can be ideal for you. But if your hands are shaky, then it will challenge you to lock on to the target. Apart from that, overall performance is satisfactory.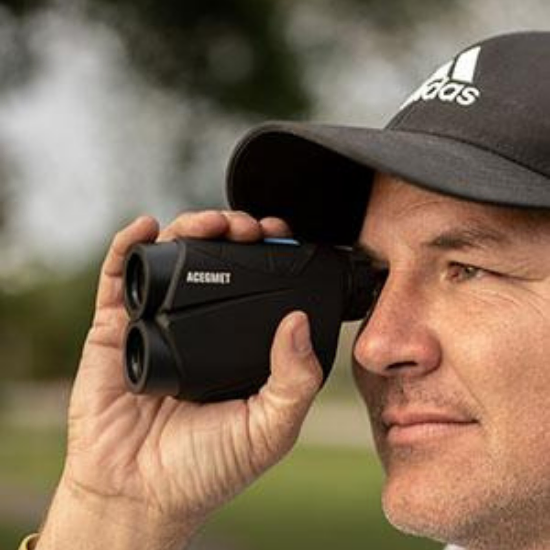 Getting accurate readings is the primary factor that you consider while selecting a rangefinder. The ACEGMET will provide the most accurate 0.5 yards distance readings.
The rangefinder offers a range of 650 yards with the accuracy mentioned. It automatically prioritizes the nearest target for measurement. It can calculate the slope distance as well. So that you can have better knowledge of exact distance including incline and decline of the ground.
Moreover, the ACEGMET rangefinder is easy to carry and use. With the 6x magnification it provides a clear visual of the target with the most accurate distance reading. And the auto power-saving mode works to preserve the energy of the battery.
Features
905 NM laser tube technology used to prevent accidents
Range of 650 yards and an accuracy of 0.5 yards
Flag lock, and pulse vibration: Vibrates when locked on a target
Automatically shut down after 6 seconds of inactivity, this ensures long battery life. USB Li-ion Battery is used
6×Magnification
Things we liked
This rangefinder is easy to carry
Longer battery life span
Provides very accurate distance readings.
Things that can be improved
You can't use this in tournaments; no option to switch off the slope
Final Verdict
If you are searching for the most accurate rangefinder at an affordable price, you can consider the ACEGMET rangefinder. But if you wish to use in competitive matches then consider other models because ACEGMET is not legal to use there.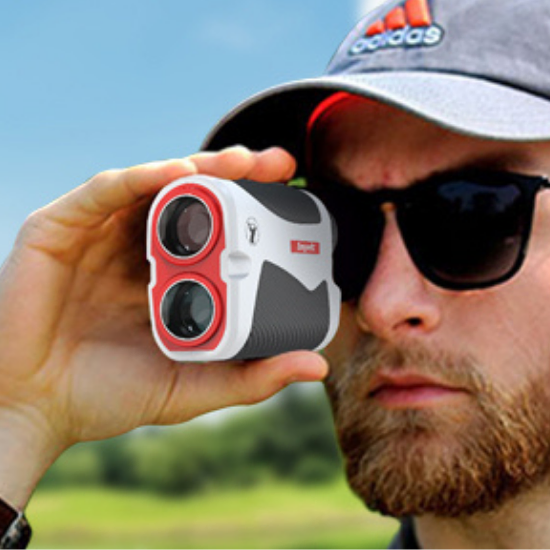 Anyork offers a maximum range of up to 1500 yards distance readings with a target locking range of up to 250 yards. You can use the rangefinder not only in golf but also in hunting. Because this rangefinder offers 2 scan modes dedicated to several applications.
Apart from the several modes, you will enjoy a slope switch feature to make this rangefinder tournament legal. For better distance readings you can lock the target or flag and then see the distance readings. Moreover operating this is very easy.
The package includes a 1x business style rangefinder, 1x carrying case, 2x CR2 batteries,1x Carabiner, 1x lanyard, 1x cleaning cloth, and 1x manual. In short, it is a complete package.
Features
5-1500 yard range
Short vibrating when locked on Flag,
Flag lock distance 350+ yards.
Clear : 6x magnification,HD LCD display.
Soft and Advance: Rubberized Feel, Soft Touch with ergonomically designed
Things we liked
6x magnification and clear viewing eyepiece
Automatic shut-off after 3 seconds and saves battery
Easy to carry
Things that can be improved
May provide inaccurate readings if the background is not clear
Final Verdict
This rangefinder meets all requirements of a golfer for daily training or tournament legal golf play. You can choose this rangefinder for the maximum coverage.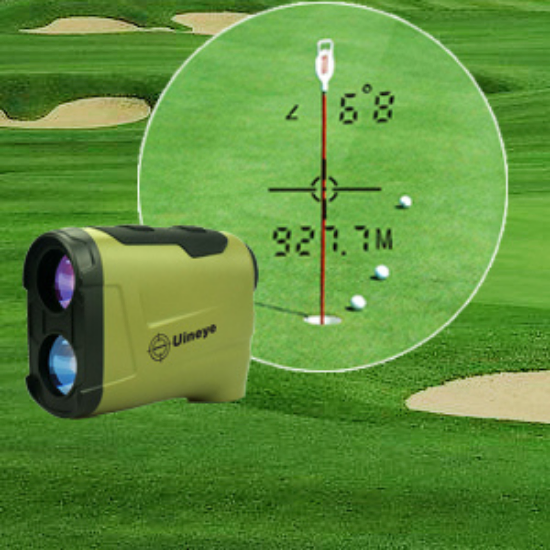 Uineye laser rangefinder is one of the compact sizes that amazed its users. It has a flag lock feature with a vibration facility. The optics are as clear as crystal. And the device offers a 900-yard range of accurate distance readings with 6x magnification. You can change the metrics to meters as well.
The textured shell with leather design gives a premium feel. And it looks beautiful in hand too. It's a compact-size rangefinder with lots of effective technological features like slope calculation, Jolt, scan with target locking, and many more.
The range finder comes with a full package that includes Uineye Rangefinder, Premium Carrying Case, CR2 Battery (3V), User Manual, Cleaning Cloth, and Convenient Wrist Strip.
Features
905nm Class I Laser
5-900/1300 yard range, with +/- 1 yard accuracy
6x magnification
IPX4 water-resistant
CR2 3V battery included
Flag-Lock with vibration
Things we liked
Fast and Accurate reading with outstanding accuracy
Complete package
Easy to Use
Things that can be improved
Final Verdict
It's a perfect combination of Slope, Jolt, and Scan, the most cost-effective range finders on the market to provide you with everything you need for golfing, hunting, and bowhunting.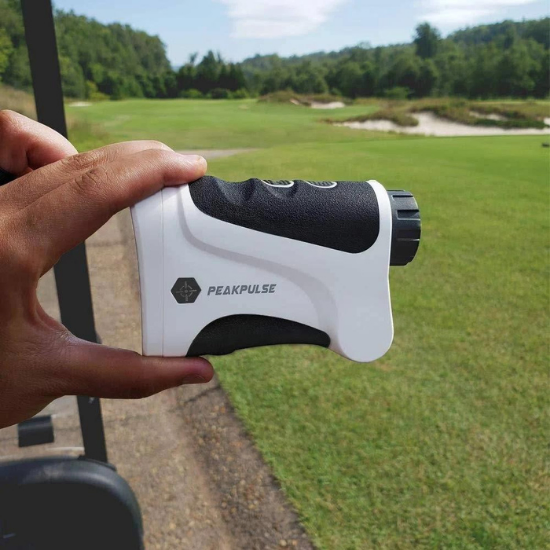 The Peakpulse 6 rangefinder is available in 2 different variants. The slope variant is named 6Pro and the non-slope variant is called 6S. Other than the slope, the rest features are the same. But you need not worry much about the models, if you need slope occasionally then you can have 6Pro. Because it has a slope switch technology that lets you switch it off when not needed.
Apart from the slope measurement, the PEAK PULSE offers some other features like fast focus and flag acquisition. They are equally very effective in helping golfers grow. The 6x magnification is a great assist to have a clear and precise view of the course. You will get accurate distance readings to +/- 1 yard.
Features
Flag Acquisition Technology
Fast Focus System
Slope Technology
Things we liked
Comfortable to use; Ergonomic Design
Sturdy and durable
Excellent magnification
Things that can be improved
Final Verdict
The PEAK PULSE is a good choice for less than 500 yards. Highly recommended for its accuracy, consistency, and affordability.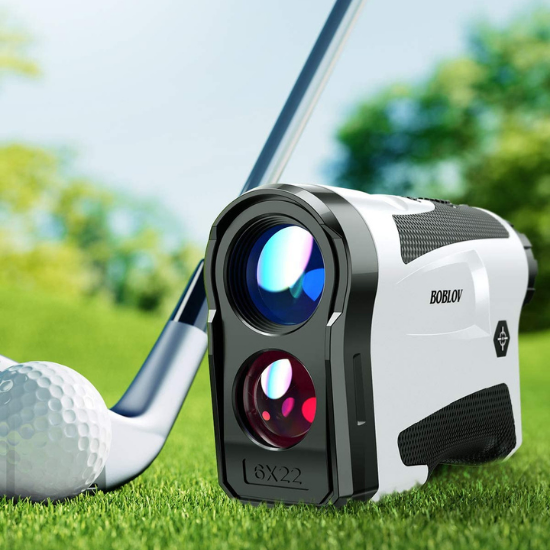 The BOBLOV LF600 is a 650 yards rangefinder, you can lock a target up to 200 yards with this device. Which is a perfect distance for flags in golf. This is available in 2 variants. One variant has slope features and the other misses this technology. In the slope variant, you can switch slope mode on/off to make this device tournament legal.
You can enjoy 3 different modes with the BOBLOV. They are flag locking mode; good for golf, ranging mode, and speed mode are good for hunting. Switching between such modes is easy as well.
You can easily switch units between meters and yards.
Features
Switch button to control vibration and slope
Equipped with three modes: ranging modes, flag locking mode, and speed mode
Slope switch
Things we liked
Can be used for both golf and hunting
Vibrates when locked to a target
Switch between yards to meters easily
Things that can be improved
Final Verdict
You will enjoy using the rangefinder as it is easy to use. The accuracy is not very satisfying but the other features compensate for the price.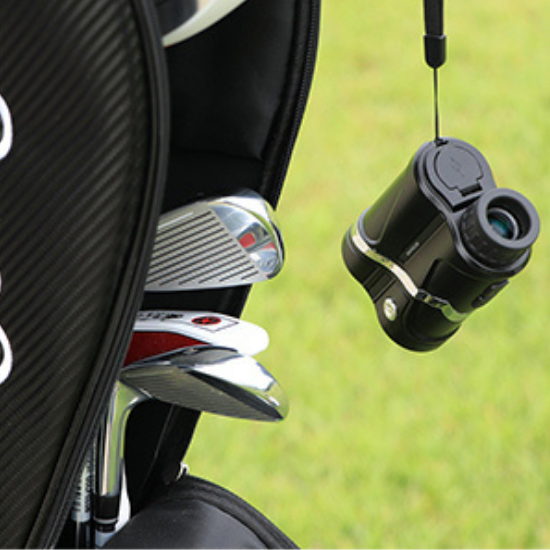 Rechargeable batteries are an added advantage in rangefinders. It helps use the rangefinder more often without worrying about changing the battery too often. Moreover, features like, manual focus, magnification, and high-definition cameras are very essential in a rangefinder. The MOESAPU laser rangefinder has all of these. Besides, it is a tournament-legal rangefinder with no slope calculation.
The clarity and accuracy are very satisfying. You can view up to 1500 yards with this rangefinder using its 7x magnification and manual focus eyepiece. And the 905nm laser provides very accurate distance measurement.
The package includes 1* carrying case, 1* Li-ion rechargeable battery (built-in), 1* USB recharging cable, user manual, wrist strap, and lens cloth along with the laser rangefinder.
Features
Pinsensor technology
Automatic shutdown
High-definition camera
7x Magnification
Things we liked
Accurate distance reading
Provides clear view
Maximum magnification
Things that can be improved
Difficult to read the results in bright sunlight
Final Verdict
This rangefinder is a good buy for the price. It includes all the necessary features to have proper distance measurements and other information for golfing. The brighter display would have been great.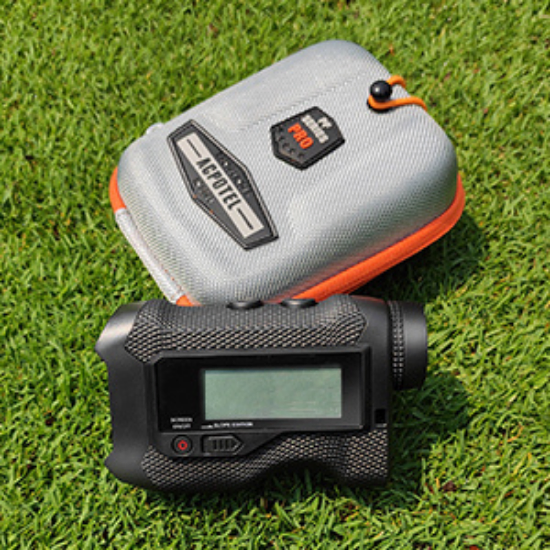 The ACPOTEL has a clear double display screen; one is an internal transflective LCD screen and another one is 2 inches of an external LCD display. As a result, you can use this rangefinder even with the glasses on. It has a range of 650 yards with a minimum of accuracy up to 0.5 yards. You can be very sure about the readings.
Target locking features help you most if you have shaky hands. The best thing we found is the target locking range. It has a target locking range of 600 yards.
The waterproof laser rangefinder adopts an ergonomic structural design and the surface is wrapped with non-toxic and environmentally-friendly soft rubber material. It is non-slip and wear-resistant so you will feel comfortable while holding it. The compact laser rangefinder with slope only weighs 0.49 pounds and also comes with a convenient storage pouch.
Features
650 Yards Laser Rangefinder
External LCD Display Screen,
Slope Adjustment (Angle Switch),
Point-to-Point Ranging Function,
Golf Scan Mode,
Flag-Lock,
Lithium Battery
Things we liked
Golf scan mode with slope calculation
Bright LCD display
Can lock targets up to 600 yards
Final Verdict
This rangefinder has the best target locking range with very satisfying distance accuracy. Surely one of the best matches for rangefinders under $100.
Things You Should Consider Before Buying Cheap Rangefinders
This might be a challenging task for you to choose the best cheap rangefinder from many products, especially when there is little to differentiate. Even though we have listed the best rangefinders, it's challenging to select from these too. That is why here is a list of factors you need to consider before making any decision.
Accuracy
Well, a rangefinder's major objective is to provide accurate data to have a good attempt to shoot and perform better by scoring less to put the ball in the hole. It is wise to choose a rangefinder that provides more accurate information even with a shaky hand. We found a few rangefinders which are capable of delivering real results but need stable hands to operate. If you don't have steady hands, then we will recommend not to buy from those.
Features of the rangefinder
Each rangefinder offers some standard features that you must look for. Magnification is the first feature you should look forward to.
The higher magnification, the better view you will have, and it will help get an acceptable range. The more coverage, the easier it is to aim. When you have more magnification and range capacity, you will be able to get more accurate information.
Portability
When you plan to practice golf outside, you will look for a lightweight and portable rangefinder. The best we chose are portable and light; a few of them are also waterproof as well.
Battery Performance
Battery performance plays a crucial role in Rangefinders' performance. The latest technology in rechargeable batteries. Nevertheless, old replaceable batteries perform well as well.
Technologies behind the result
Technological advancement has always worked as a blessing for humans and made our regular activities easier. In the case of a rangefinder, technology has made it easy to track your target with features like slope management, target locking, pin acquisition, and scan modes.
Magnification
Range
Target locking
Durability
Slope measurement
Frequently Asked Questions on Golf Rangefinders
Conclusion
Hopefully, our research and review helped you have a better knowledge about the best quality rangefinders in the market and select one for you. We reviewed the rangefinders, based on the facts you should consider too before buying. Besides, we gathered all the questions asked over the internet here in this article. In any case, if missed out on any information, let us know. This would help us develop and help fellow golfers have complete guidelines in a single article.