According to rule 4.3a updated in 2019 by the USGA, you can use any golf course equipment. That includes distance measuring devices like GPS and rangefinders too. But, there are a few regulations on how you can use such devices. And when these devices are illegal. Don't get puzzled by the terms of rules and regulations. You will get the most straightforward explanation of the rules in this article.
You will find lots of best quality golf rangefinders with advanced technologies and the latest features. But all of them may not be legal to use. Knowing the rules and regulations can help you in this regard. Besides, you will avoid any penalties due to the breach of the law.
Explained: Rule of Distance Measuring Device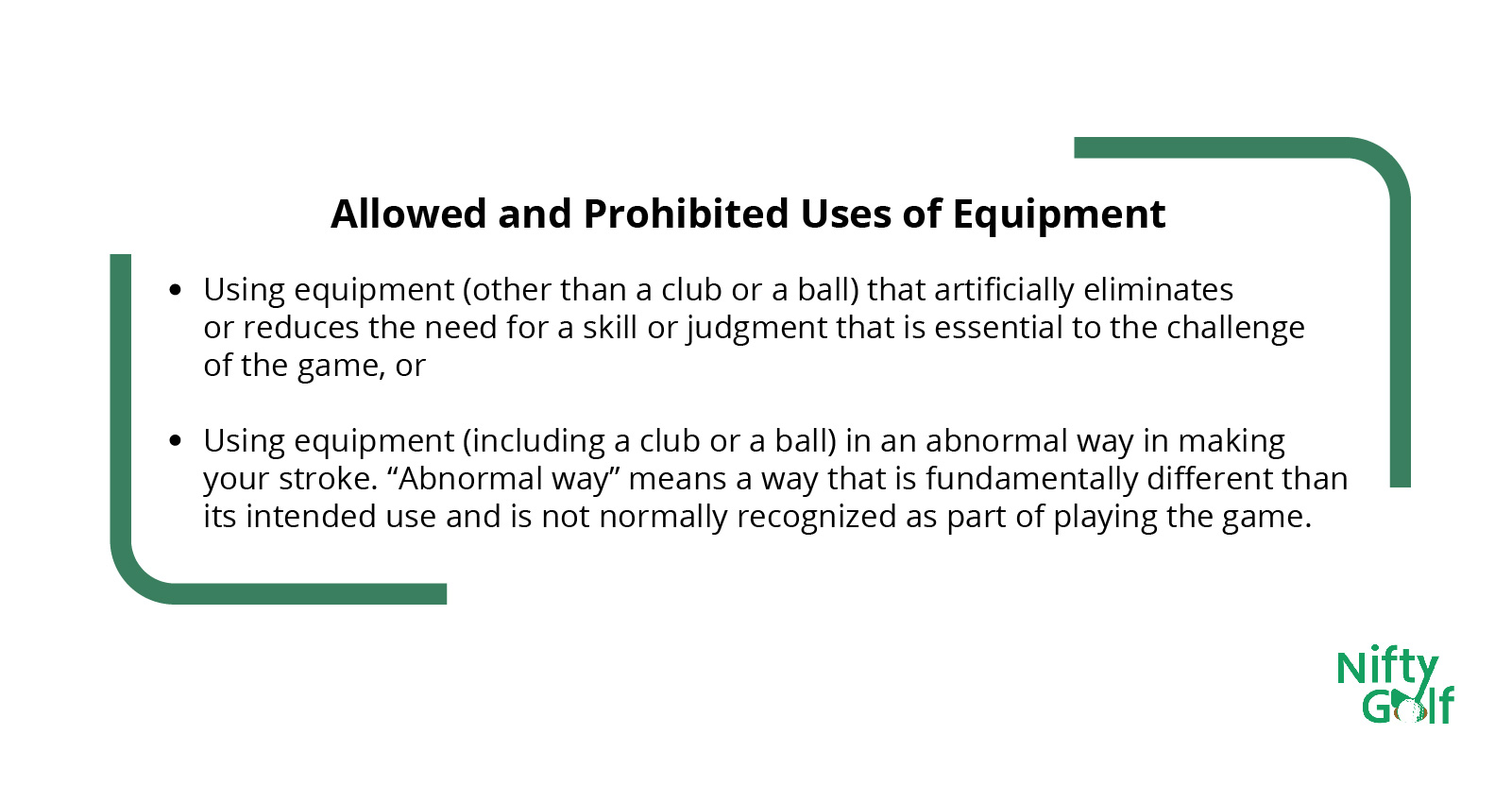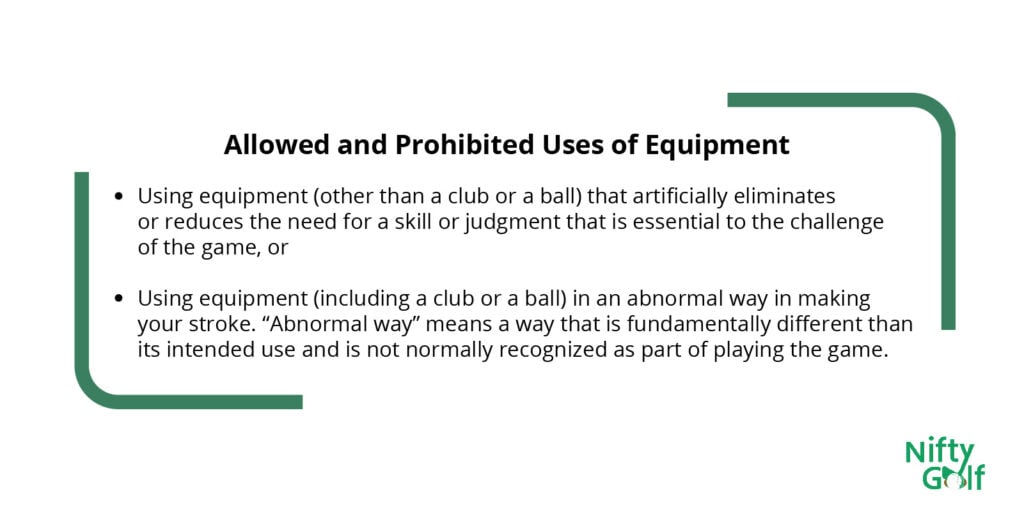 Rangefinders are legal to use in golf competitions with some conditions. Before 2019, it was prohibited to use rangefinders in competitive golf. But now, you can use it in competitive matches as well. USGA has approved this rule with some conditions. Here are they:
What you can't:
Slope calculation is not allowed. Rangefinders with such features are illegal in competitive matches and tournaments.
Rangefinders that suggest the best club for a specific stroke are not allowed.
You can't access environmental conditions, such as wind speed or altitude (gauged or measured variable)
You can't use golf swing metrics during competitive matches.
What you can do with a rangefinder:
Measure distance between two points (actual or gauged)
Use pre-published information like map details, tips for playing, and many more.
Gather the latest weather information, i.e., rain forecast
Learn statistics on the course or clubs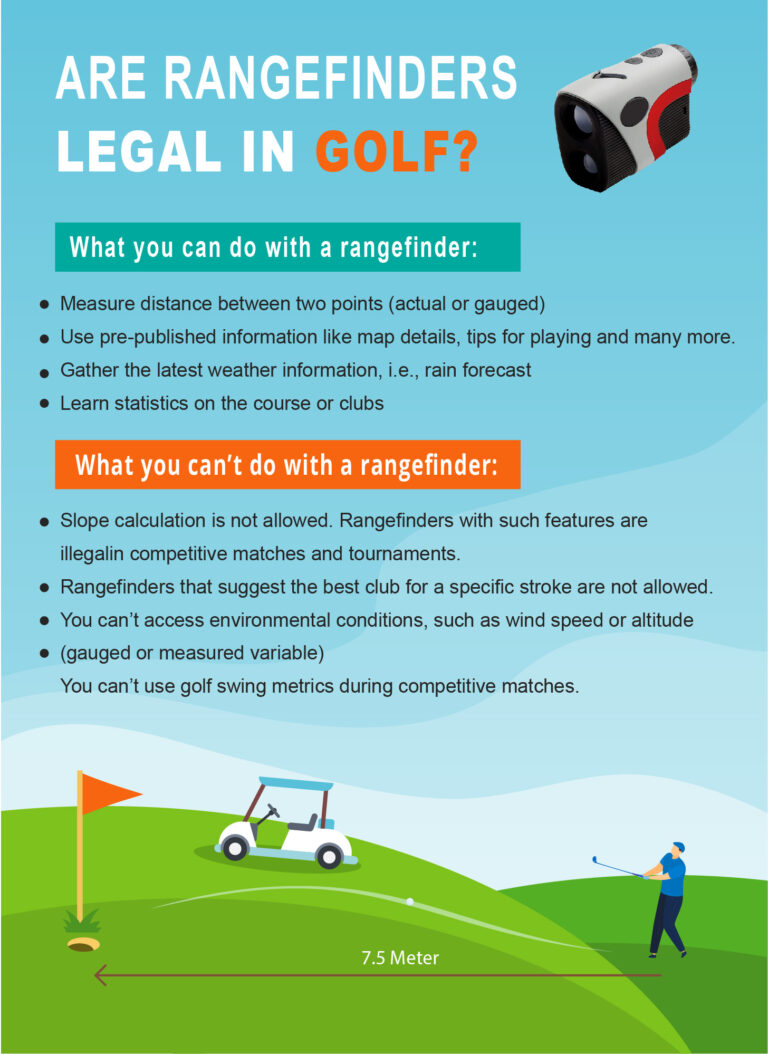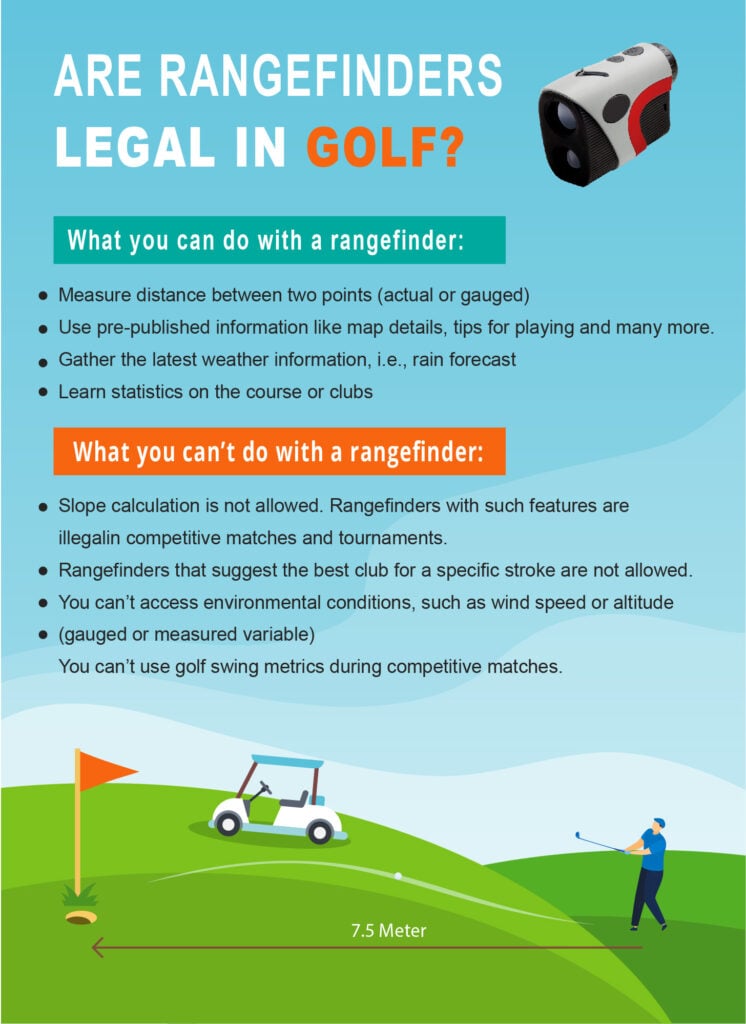 So the summary is you can use DMDs like rangefinder and golf GPS in golf tournaments as well. They are legal to use. But some of their features are not legal yet to maintain fair play in the competitive field. You may have the same question: what if someone takes advantage of such features, and what would happen to them? Here are the penalties for violating the rule.
Related: Cheap Rangefinder
Penalties for violating rules
There are specific penalties for breaking any rules regarding carrying and misusing a distance measuring device. If you repeat the violation of the statute, you may result in disqualification. Here is what rule 4.3 has quoted on breach of the law.
"The first breach of this Rule means the player gets a loss of hole penalty in match play or a two-stroke penalty in stroke play. A second breach of Rule 4.3 during the same round results in disqualification."
Additionally, note that, If a multi-functional device (like a watch, smartphone, or GPS handheld) is voluntarily viewable by the player, it would be 'considered to have used' whether the player has used it or not. The rule of breaching the law will be in action.
Frequently Asked Questions About Rangefinders
Apart from the legal issues, golfers often ask the following questions regarding distance measurement devices. We have gathered them under one shed so that you can have all queries answered.
Are you allowed to use a rangefinder on the PGA Tour?
No, distance measuring devices like rangefinders are not allowed in the Professional Golfers' Association of America tour, even though USGA has approved it. USGA also mentioned that local golf course organizing committees could disapprove of DMDs in tournaments they organize. On this basis, the PGA committee does not allow you to use a rangefinder on tour. Though the PGA committee tested using rangefinder in PGA tour back in 2017.
Can you use GPS watches in golf competitions?
Based on recent rule updates by the USGA, DMDs like GPS watches can be used in golf tournaments to measure distance and explore preloaded information. But you can't use features like slope calculation, club suggestion if your GPS watch has such features. Not just GPS watches, you can use other Golf GPS (either handheld GPS or GPS watches) devices too legally.
How do golf courses calculate distance?
Golf courses can measure their distance in 3 ways mainly. They are: using a GPS, using a rangefinder, and with help from a yardage marker. You might know the Golf GPS and Golf rangefinder as a golfer, but the yardage marker is relatively an unfamiliar device. Yardage markers are old-fashioned methods but effective ones. You will find a tag after every 150 yards in most golf courses from the green.
Conclusion
Knowing the rules is an added advantage, especially when you are playing competitive matches. It helps you avoid unwanted penalties and take the benefits properly. You can practice with any golf rangefinder to sharpen your skill. Moreover, you can use distance measuring devices, including golf rangefinders, in golf tournaments. Just follow the organizing committee's rules and don't violate the laws by using unfair calculations.