The Callaway GPSy Golf GPS Watch is a sleek, beautifully designed, and affordable watch for displaying relevant information. It shows the analog and digital time as well as provides the accurate distance from the green and reduces the handicap. This device is made by the famous golf equipment manufacturer 'Callaway Golf' which was founded in 1982 by legendary Ely Callaway.
If you want to control your swing and shoot the best score, then the Callaway GPSy watch is ideal. So stay with us and get an idea in detail about the GPSy watch review.
Callaway GPSy Golf Watch Review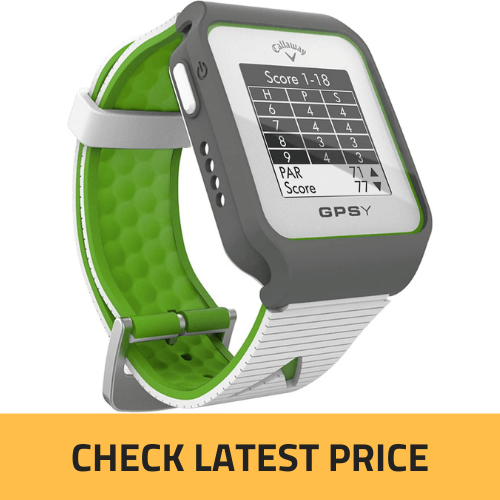 Looks And Design
Callaway GPSy Golf GPS looks a lot like a smartwatch, but it may seem like a Casio calculator watch at a first glance. However, the horizontal pattern of the watch gives it a beautiful look. Its display screen is 1.28 inches. You can also read characters in sunlight because it displays white letters on the black screen.
The GPSy GPS is a modern design watch. It's not like a touch screen golf watch but it's a very thin watch with a nicely shaped face without sacrificing anything in the way of clarity of its display. Although it weighs 59g, it will not create any obstacle for you to take a swing.
On the device's left side, you will find the power button and four magnetic points for charging. It is clean enough as all the settings of the watch are suitable.
Features: 
Preloaded courses: The Callaway GPSy watch comes preloaded with a map of about 30,000 golf courses around the world. Whenever you go to a golf course to play, it will pick up your course. And it will load the data immediately.
Shot distance: You can easily measure shot distance with a Callaway GPS watch. To find out how far you have hit the ball, you have to exit the golf play mode and enter the shot distance mode.
Data: The watch contains a large amount of data such as doglegs, bunkers, danger distances, etc. This data will help you make a perfect shot and avoid danger.
Auto-advance: You don't have to make any changes while moving from one hole to another. Because it automatically advances to the next hole. And you cannot disable the auto-advance feature completely. But if you want to change the hole, you can adjust it manually with the up/down buttons.
Scoring: Through this watch, you can track your score during the play. But you can't track your partner's score.
Statistics: The Callaway GPS watch lets you track the number of your putts and whether you hit the GIR(the green in regulation). And you can save rounds on your watch. But you can't see your previous statistics on the watch. But if you want to see it, you need to sync the device with the mobile application.
Odometer: The Callaway GPSy GPS has an odometer that lets you know how many yards you have traveled. This odometer will not only help you on the golf course. Instead, you can track your fitness activity with it if you want.
Accuracy & Performance:
GPSy GPS watch is the best among the Callaway golf GPS watches to display every pinpoint information. It will tell you the distance according to the plate you are on. For example, if you stood 130 on the plate, it would say 130. And in the case of the cart, if you go to measure, it will show 1 yard more or less from the proper distance. Sometimes it resets itself depending on the weather and situation of hazards. According to most golf watch users, this is the most accurate GPS unit.
Although it is excellent in terms of accuracy, this is not the best feature of this watch. Instead, the best part is that it clearly shows how far you are from the hazard during each shot and how much distance the ball carries after each round.
There are more good aspects to this watch. It is lighter than other GPS watches. And the battery life of this GPS watch is much more long-lasting than other GPS watches. It lasts 8-12 hours in golf mode. And only time mode can last 90 days.
Pros
The Callaway GPSy GPS watch has strong course coverage.
Accurate Hazard distance reading.
It can record and display the score.
There is no monthly or annual fee for course updates.
Its display size is decent.
Cons
The GPS watch comes with a limited warranty.
Its statistics tracking is limited.
There is no connectivity for online comparison.
Setup & Use of Callaway GPSy
The Callaway GPsy watch is easy to set up and use. However, it is not intuitive out of the box. So you can navigate in a very short time. With its three buttons, you can go to menus and course options. For this, you may need to press a button or hold down a button.
First, you go to the menu by pressing the button after fully charging it via USB. As soon as you go to the menu, you will find 'Play Golf' in the first list. Then wait at least a minute. Because during this time, the satellite will locate your watch and find a list of courses around you.
Then you select the course you are in.  And you will see that it will automatically update the yardages. If you want to go the distance to hazards or shot measuring, you have to go according to the button sequence.
Frequently Asked Questions On Callaway GPSy Golf GPS Watch
How many preloaded courses?
The Callaway GPSy Golf GPS watch has over 30,000 preloaded golf courses. In particular, it has all the major golf courses in the world. So wherever you go, you will find golf courses in this GPS watch.
Are there any subscription fees?
No, the user of this GPS watch does not have to pay any subscription fees or any regular price. Furthermore, once you have purchased this device, you do not have to pay any new fees to use the features of this device.
Is the Callaway GPSy Golf GPS tournament legal?
Yes, the Callaway GPSy GPS is tournament legal. This GPS device can be used in many types of tournaments, including PGA tours. This GPS watch can initially measure distances, so it is allowed to be used in tournaments. But if it could initially calculate wind, slope, or elevation, it would not be allowed to be used in tournaments.
Conclusion
The Callaway GPSy Golf GPS watch is an excellent device for improving your game speed and score. It should be the ideal choice for you as it gives you the advantage of accurate distance and digital scorekeeping. So now you make your decision. After reading this review, feel free to leave them in the comment box if you have any questions or comments. If we can make this review helpful for you, then we are successful.