A golf GPS pinpoints your exact location to give you distances to the green. Bushnell Phantom Golf GPS does that well at an affordable price. As a bonus, it also lets you know the distances to hazards. Then, included Bite mount technology and free Bushnell GPS app makes it more than just a basic golf GPS.
But mostly it may lose the signal if kept in pocket. Therefore, the most important question still remains. Is it for you? To find out the answer, we went through a long research and analysing process. Let's have a look at the Bushnell Phantom review to help you decide.
Bushnell Phantom Golf GPS Review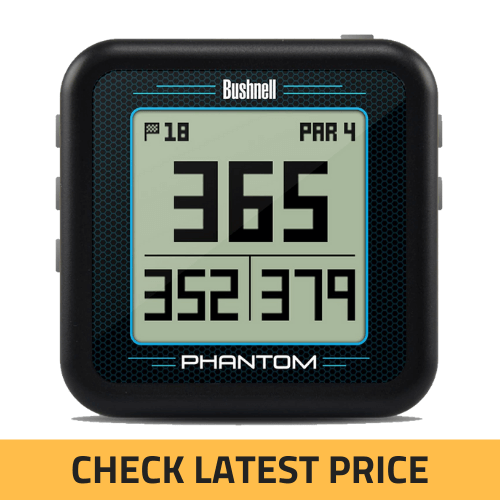 Size and design
Bushnell phantom golf GPS has a light and compact design. As it is made of 100% polyester, it may look cheap to you. But the LCD black display makes up for that. The display is 2 inch in size but you won't have any trouble seeing the numbers. Because the Bushnell phantom GPS shows the numbers in a pretty big size. In the back of the bushnell phantom golf gps, you will see that button function. So, you won't have to carry around the manual even if you are using it for the first time.
Besides, the GPS is so small that you can easily carry it in your pocket or bag. But keep in mind that it would mostly lose signal if you do that. So, you can not keep it in your pocket during the game. You may put it in your pocket on your way back home. Despite being small in size, Bushnell golf Phantom GPS holds a lot of features to make your game easier and better.
Features and Technology
Bite mount
The Bite mount technology lets you clip the GPS on any metal surface. As a result, you can carry the Bushnell Phantom GPS around easily by attaching it directly with your belt, golf cart or golf bag. Check out the best golf stand bags and travel bags.
Though the GPS comes with a clip too, it isn't really enough for attaching with many things. Because the clip is a bit small in size. That's why a magnet is needed for attaching it directly with the metal things like golf carts. If you use both magnet and clip at the same time, there are less chances for the magnet to knock off. Though the magnet is strong enough to be attached to any metal, it may loosen sometimes. Especially when it is attached directly to the cart, bumps may knock it off.
Courses and Distances
Bushnell phantom golf GPS is preloaded with 36,000 courses in 30 countries. Therefore, you won't have to go through the trouble of downloading the list of golf courses. You just need to turn on the GPS unit and choose the "play golf " option. The GPS will show you the nearest courses and let you choose one. Once you select a course, it will take you to the first hole. Then the GPS provides you with the front, back and center distances of the green. It also lets you mark hazards.
Bluetooth
The Bushnell Phantom GPS comes with a bluetooth for course recognition, hole advancement and update. You can also connect the Bushnell phantom GPS with the Bushnell mobile app through bluetooth.
Free Bushnell GPS app with Bushnell Phantom GPS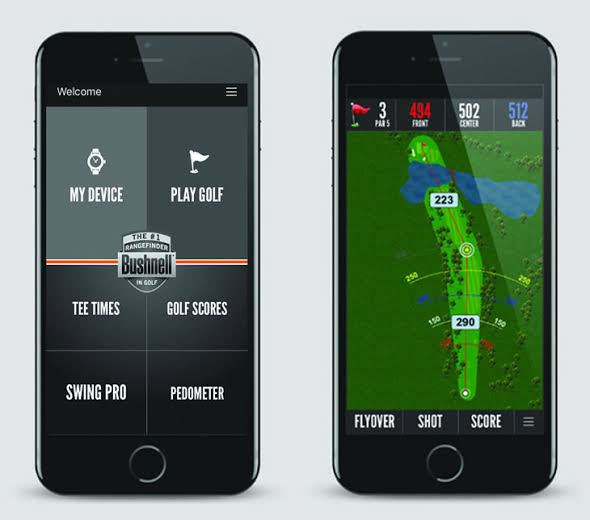 The Bushnell GPS app is included with the purchase. Therefore, you get free access to the app if you buy a Bushnell Phantom GPS. By simply entering the serial number of the device, you can pair it up with the app. Then the Bushnell app provides you with a detailed overview of the holes. You can track your golf scores. The app also shows 3D graphics layouts of the holes and on course measurements.
The Bushnell app is very helpful while playing a hole for the first time as you can see the course flyovers through the app. You also have the option to analyse your swing speed with the "Swing pro feature" and much more.
Accuracy & Performance
Bushnell phantom provides accurate data to help you play better, in a price range that you can reach out. It gives you accurate reading of the distances, hazards per hole and much more. If you connect it with the included free Bushnell mobile app, it provides you with many more features and that make your shots better.
You don't have to think about the charge either. After a few hours of charging, it works pretty well. When it is fully charged, it works for about 10 hour. You can easily play 2 rounds with that charge. Sometimes even more. But it is better to charge the GPS after every 2 rounds so that the device cannot be turned off in the middle of a game.
Pros
Easy to use
Affordable
Lightweight
36000 preloaded courses
Water- resistant
Comes with Bluetooth
A charging cord, clip and mobile app included with the purchase
Can be attached with the belt, golf bag, golf cart etc.
Cons
Bumps may knock the magnet off while directly attached to cart
The clip is a bit small
As it is made of polyester, it may look cheap to you
It is not water- proof
May lose satellite signal most of the time if kept in pocket
Buy Bushnell Phantom Golf GPS Now!
Frequently Asked Questions About Bushnell Phantom GPS
How many preloaded courses does Bushnell Phantom Golf GPS have ?
Bushnell phantom golf GPS is preloaded with 36000 courses in more than 30 countries. It shows the local or nearest courses first.You just need to select a course by simply scrolling with the up or down button. It can also point to your current course.
Are there any subscription fees for Bushnell Phantom golf GPS?
There are no subscription fees for the membership or update of Bushnell Phantom golf GPS. Moreover, the Bushnell GPS app is completely free for the Bushnell Phantom golf GPS users. It is included with the purchase. You can access and connect the device with the Bushnell app through bluetooth.
Is Bushnell Phantom tournament legal?
Yes, Bushnell phantom golf GPS is tournament legal. If you are a professional, you can buy it without any worry and bring it to the tournaments. But to stay on the safer side, make sure to read out the tournament rules about using a golf GPS.
How accurate is Bushnell Phantom?
The Bushnell Phantom golf GPS is excellent in accuray on an affordable price. It provides you with the most exact hole distances, scoring and tracking data and much more. As a result, you can play better and go for your best shots, keeping pace with the budget.
How do I reset my Bushnell Phantom GPS?
To reset Bushnell Phantom GPS, you need to press the 'down' button and hold onto that. Then press the 'power' button. When the screen goes off, let go of the buttons. Press the power on and the Bushnell phantom is ready to go after reset.
Conclusion
If you are looking for a budget friendly GPS, Bushnell Phantom golf GPS is a great choice to go. It will give you an accurate location and help you play better in an affordable price range. As Bushnell phantom is not very technical and easy to use, it is an excellent choice for the beginners as well.
Looking for more options? Check out the best golf GPS. You may want to check out the best golf GPS watches reviews as well. But if you have already decided to buy a handheld one, have a look at the list of best handheld golf GPS picked by our expert team.
Let us know about your inquiries, suggestions and opinions. We would love to hear. Happy golfing!