Wondering how you can precisely calculate the distances of your golf courses? Yes, you might find it difficult if you don't possess a golf gps. Even if you have one, you might be using extra clubs in the golf courses to get the exact distances. You know why? Because you don't have an accurate one.
So it's required for you to use a quick and most accurate golf distance device. And that's why we are here to provide you the best golf GPS reviews after researching for a long period.
This article is for you if you are eagerly waiting to know which golf GPS device will be appropriate for you from every aspect. As you can't calculate the accurate distance without the help of golf GPS systems, it will definitely play a significant role when you will be playing golf.
10 Best Golf GPS Review
Not all gps are equally good or give the same proper result. Some are top-rated GPS, some are suitable only for pro, some others are for beginners. Some GPS might be chosen by the price-conscious people for bearing an affordable price, Some are a little bit pricey and perfect for those who want long time services with high quality. Let's know the best 10 GPS among the others.
1. GolfBuddy Voice GPS Unit (Most Accurate)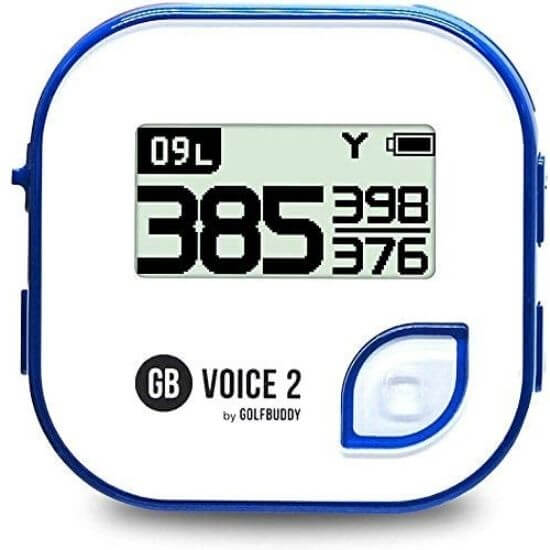 The GolfBuddy Voice GPS is a wonder of unique features and advanced technology. The surprising fact is that you will get the world's courses in the size of a little box which provides 40,000-course storage capability. The voice which will tell you the distance will make you astonished and the vibrant user interface will intensify it.
Features
Audio Distance Information (It tells you the distance)
Pre-Loaded with 35.000+ courses worldwide
8 different spoken languages pre-loaded
Shot Distance Measurement
Things we liked
Easy to use
Shows the actual shape of the green
Record the distance between any two points
Accurate distances
Quick to set up
Things that can be improved
Final Verdict
If you want to play a lot of courses with the most accurate data, this GPS will be an ideal choice for you. You can easily use it and quickly set up according to your wish.
2. Garmin Approach S20, GPS Golf Watch (Multiplayer Ability)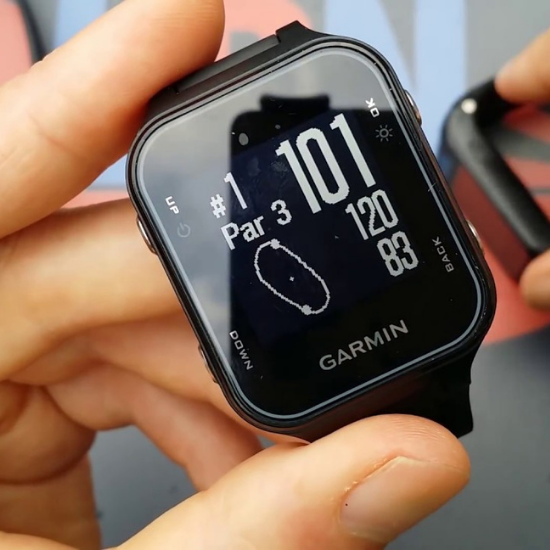 If you want a very fashionable, elegant and lightweight device, then Approach S20 will be an ideal choice for you. You will get more than 40,000 courses with automatic map updates. And here, you will notice accurate distances to the front, back, and middle of the green and hazards as well.
Features
It simply maintains track of your score throughout your round.
It acts as a wireless extension of compatible smart devices, displaying smart notifications, right on the watch.
The Green View feature on your Approach S20 shows you the real pattern and setup of the green, even if you're behind it.
Activity tracking reminds you to stay active on or off the course with move bar alerts.
Autoshot round analyzer computes shot lengths with auto-recording for post-round analysis on your Garmin Connect account.
Things we liked
Sunlight readable
Lightweight & versatile
High resolution, monochrome
Ease of updates
Things that can be improved
Misses a number of swings during a round
Should last more than two months after a full charge
Final verdict
To get a device containing the multiplayer ability and stylish design, we recommend Approach S20. This watch will help you get notifications through your smartphone.
3. Garmin Approach S60, Premium GPS Golf Watch (Long Battery Life)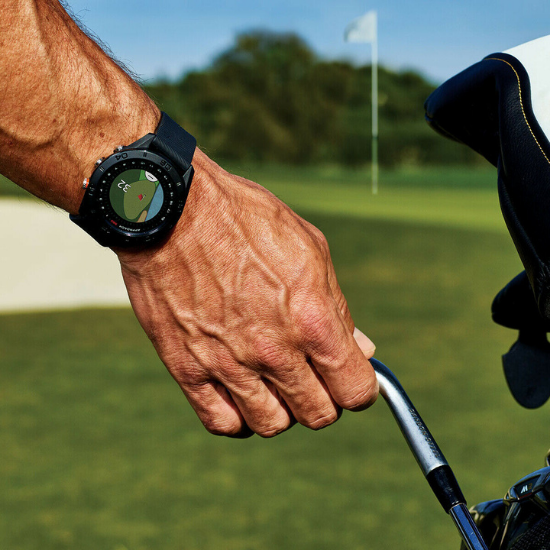 This watch will be favorable on and off the course. You will get the essential information required for your round -displayed on a large, 1.2-inch sunlight-readable color touchscreen. Andyatch your activity, you will be able to transform your style without tools with effective Quick Fit bands.
Features
Sleek GPS golf watch that reflects your passion on and off the course.
Large, 1.2 inches Sunlight-readable color touchscreen display. Available outdoor recreation profiles: Skiing, Snowboarding, XC Skiing, Stand Up Paddleboarding, Rowing
Quickly get your location using GPS to Show precise yardages to greens, Hazards, and doglegs, on full-color course maps. Bezel Material: polymer or ceramic
Convenient Quick Fit bands for fast style changes without tools. Battery life- up to 10 hours in golf mode; up to 10 days in watch mode
More than 40, 000 preloaded courses from around the world. QuickFit watch band compatible:0.866 inches
Things we liked
Long time playability
Flawless golf functions
Yardage reading are very accurate
Properly visible in sunlight
Versatile & lightweight design
Amazing battery life
Things that can be improved
Pricey for some golfers
A heart monitor should be included
Final verdict
If you want the multiplayer ability, we would like to recommend this watch as it is very versatile and has the capability to satisfy you. The fantastic battery life will be more comfortable for you.
4. TecTecTec ULT-G Golf GPS Watch (Waterproof)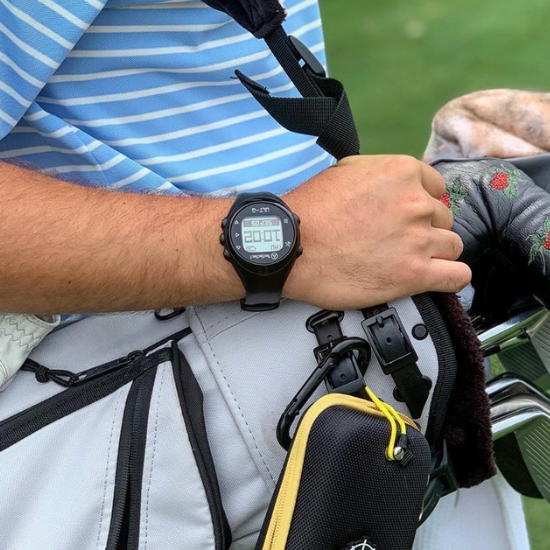 The features of ULT-G GPS watch are its specialty as these features will take your game to the next level. For course updates, you require nor subscriptions & neither any surprise additional charge. TecTecTec is a brand that will make you happy with its products.
Features
Measures distances to the front, back, and middle of the green. Accurate to within plus or minus one yard. Distances to hazards are included. Measure the distance of your shots
The ULT-G Watch doesn't include any features that will weigh you down. Only the features you need to take your game to the next level!
Access More Than 38,000 Courses Worldwide
Auto Course Recognition
Automatic Hole Progression
Distance to Front/Center/Back of the Green
Distance to Hazards
Durable Design
Bluetooth Update Capable
No Subscriptions and Updates
USGA Compliant
Things we liked
Very easy to use
Durable and lightweight design
Water & dust resistant
One year warranty
Reasonable price
Things that can be improved
Final verdict
Want to have some extraordinary features with lightweight & durable design? You might like this watch as it can fulfill your desire.
5. Bushnell Phantom Golf GPS System (Most Courses)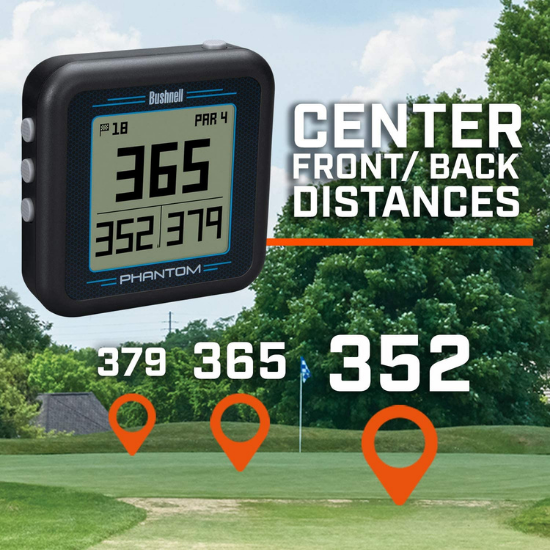 If you want a convenient Golf GPS with Bite Magnetic Mount, Bushnell Phantom Golf GPS is for you. You will be able to use this watch in a simple way. It provides a clip holder so that it can attach to your bag or belt.
Features
Bluetooth allows for wireless course updates
Long battery life play up to 2 rounds before charging
Preloaded with 36,000 courses in 30 countries
Easy to use interface
Up to 4 hazard distances per hole
Auto course recognition
Auto hole advance
Integrated BITE magnetic mount sticks to any metal surface
Includes clip holder to attach to your bag or belt
Bushnell Golf App included with purchase
Things we liked
Easy to use
Very accurate
Powers up quickly
Display is easy to read
Sufficient golf courses
Things that can be improved
Some golfers found the magnet weak
Final verdict
To have a digital display with a magnet feature & to have an accurate distance, you can consider this watch. It won't disappoint you as you will get enough golf courses here.
6. Shot Scope V2 Smart GPS Golf Unit (Affordable)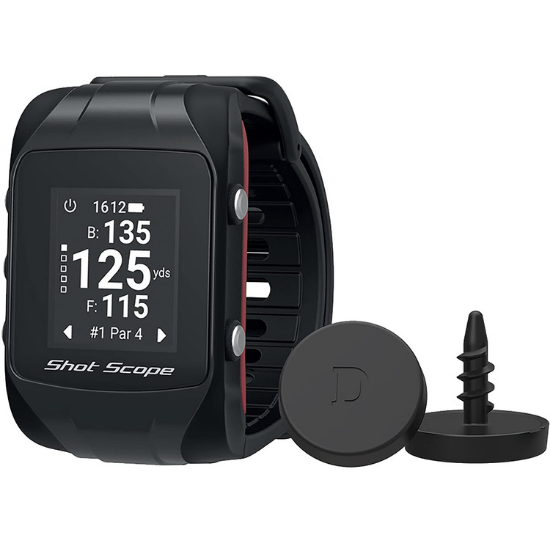 V2 is the flexible golf watch available. It combines GPS distances with completely automated tour-level performance analysis. By using this watch, you will be able to adjust to every angle and provide a detailed insight into the course.
Features
GPS Distances to Front/Middle/Back of green and hazards
Automatic Performance Tracking using Clubsense technology
Free account available on iOS, Android, Desktop
No subscriptions
Excellent support team
Things we liked
Simple to set up
Easy to use
Accurate GPS with great documentation of the greens locations
Batteries aren't required in the sensors
Sensors are easy to install
Things that can be improved
Readings seem inaccurate to some golfers
Final verdict
To get simplicity in installation & set up, you can use this watch. And if you are a price-conscious customer, you can buy it at a reasonable price.
7. Izzo Swami 6000 GPS Device (For professionals)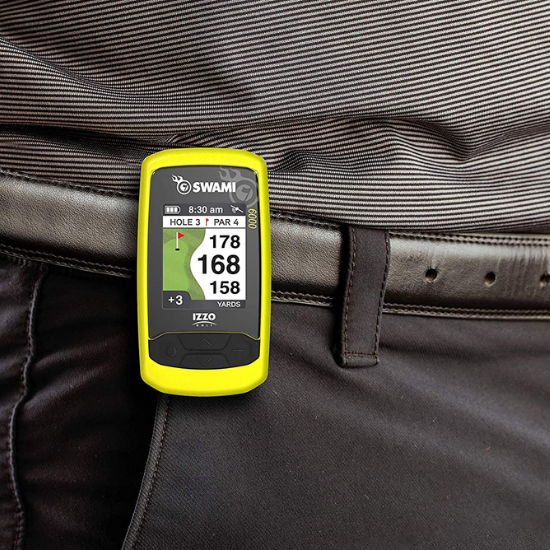 To get a watch with advanced technology and a strong magnetic holder, you can use swami 6000. It's Preloaded with over 38000 global course maps. With the help of 4 different modes, you will be able to know distances to the front, center, and back of the green.
Features
Accurate distances to Front, Center, Back of green; Layup and Carry distances to hazards & doglegs
Auto course recognition, Auto hole-advance, Individual shot distance measurement
Integrated magnet for attaching to cart frame for handsfree and eye-level viewing during the round
Digital scorekeeper; save round scores
Large, vibrant 2″ color display; easy to read and operate
department name: unisex-adult
material type: Plastic
sport type: Golf
Things we liked
Long-lasting
Advanced technology
Easy to read
Very accurate
Magnet on the back
Things that can be improved
Sometimes down button can stuck
Final verdict
If you want a durable & quality product, this watch can be an ideal option for you to use. You can simply read the display and have an accurate distance.
8. Garmin Approach G30, Handheld Golf GPS (2.3-inch Color Touchscreen Display)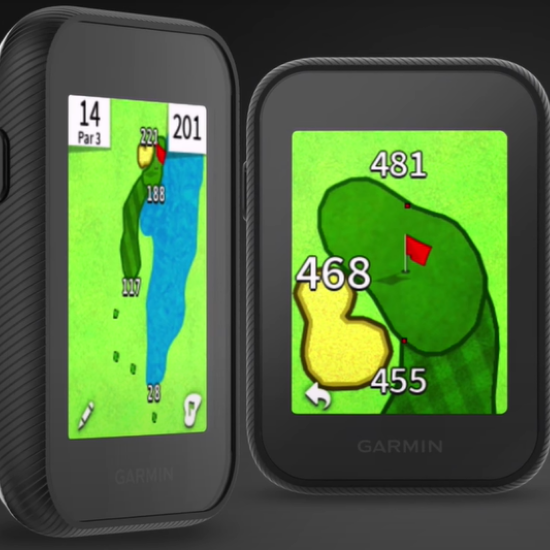 If you want to beat the course, you should know the course first. And you can do this with the help of the compact Approach G30 GPS. The surprising fact is that it is preloaded with more than 40,000 courses worldwide.
Features
Sleek, compact handheld golf GPS with a 2.3-inch color touchscreen display
High-sensitivity GPS acquires satellites quickly to show the distance to greens, hazards, and doglegs
Preloaded with more than 40,000 courses worldwide
Full-color course mapping with Touch Targeting feature
Green View allows you to place the pin in the correct location for the day, which improves distance accuracy
Things we liked
Easy to use
More courses
Stylish design
Wireless connectivity
Easy to see
Good battery life
Things that can be improved
A little bit pricey for some golfers
Final verdict
For a GPS with styling design and wireless connection, Garmin Approach G30 is a good one. You can simply use and easily read the display.
9. Garmin Approach G10 (For beginners)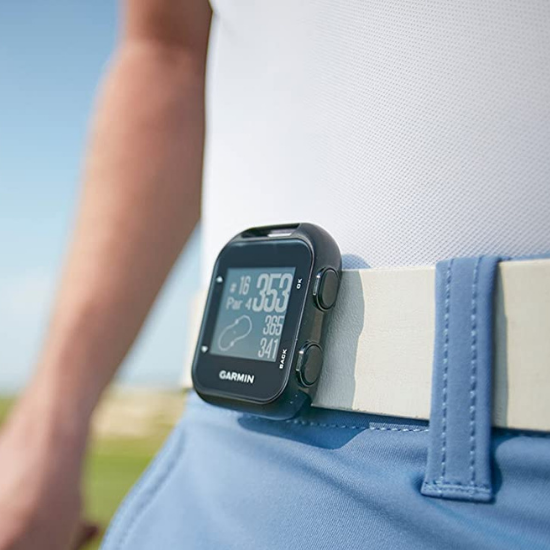 If you want to put the right shot into the right spot with consistency, you need Garmin Approach G10. It offers accurate distance and provides a green view feature. It allows more than 40,000 international courses.
Features
Display size: 0.9" x 0.9" (23 x 23 mm)
Compact design – Sleek, pocket-sized design that conveniently clips-on to your belt, bag or place it in your pocket
Hazards and course targets to identify locations of sand traps, water hazards and more
High-sensitivity pps acquires satellites quickly to show distance to greens, hazards and doglegs -even under tree cover
Green View – displays the shape of the green with manual pin placement
Stat tracking – enhanced stats keeps track of fairways hit, greens in regulation and putts per round
Things we liked
Simple to use
Very durable
Good battery life
Very accurate
Green view feature
Pin setting feature
Affordable
Things that can be improved
Should add a magnetic feature
Display should be bigger
Final verdict
If you are a beginner and want to have all-hazard distances on par 4 and 5 holes at a reasonable price, you can afford Garmin Approach G10. As you get more useful golf features here, we would like to recommend this to you.
10. Callaway GPSy Golf GPS Unit (All Distances)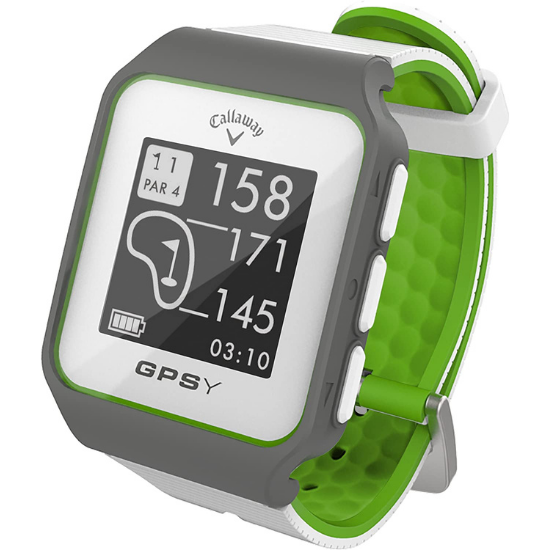 If you want fast delivery, exact distances to greens, hazards, and doglegs via the convenience of wearable technology, The Callaway GPSy Golf GPS is for you.
You can see its features.
Features
Preloaded with over 30,000 golf courses worldwide; No annual fees or subscriptions required
Accurate distances to the front, center, and back of the green as well as layup and carry distances to the back of hazards and doglegs
Scorekeeper tracks scores, GIR, and putts per round; Auto-course recognition; Auto-hole advance; Shot distance measurement
Analog and digital time display. Time and date automatically set by satellite
The battery lasts 10-12 hours in GPS mode. 90 plus days battery life in time mode
Display size: 1.28-Inch, Dimensions: 10.25 x 1.5 x 0.5-Inches & Weight: 2.24 oz.
Things we liked
Accurate distance to green & hazard
Comfortable & stylish
Easy to use
Affordable
Things that can be improved
Some customers aren't satisfied with the charger design
Final verdict
If you want the pinpoint data of every measurement relevant to the distances at a reasonable price, you should try this one. It won't disappoint you as it will work according to your satisfaction.
Things to Consider While Buying Best GPS
Can you imagine that you have bought a golf gps tracker to practice quicker but are not getting the expected result from it? You don't even know what the problem is with the device. What should you do now? Just take a breath. There is also a solution. And you can have this if you know some specific things before buying a golf GPS device.
Here are those things required for you. We described the things for you as a buying guide. Make yourself sure that you are alert of this guide and going to check each of them.
Check the features
Before buying a golf GPS unit, some features and advanced data are required to look for. Make sure the device you chose to buy has these features.
Display quality
Yardage mapping
Manual pin setting
Durability
Swing Analysis
Battery power
Touch Screen
Simple to use
Fitness Tracking
Distance Information
You need to know whether the watch you are going to buy provides accurate distance data or not. To practice & improve your game, nothing is more required than the accuracy of your watch.
Think, you are not getting the advantage of taking help from a caddie. And you don't have enough data in your yardage distance book. Now, what are you supposed to do? Carrying clubs again and again and continuing practice? Won't it be difficult and create trouble for you?
So first, don't forget to check the distance information if they are accurately measured in the device.
And second, your gps device should calculate the distance of the front, back, and the middle of the green.
Sometimes fortunately you can get a gps tracker that can track the distance of yardages to hazards and doglegs. It will be a plus point for you.
Display quality
The display quality should be better as the device will show you data on the display after tracking. Some gps units have the touching display and in this case, you can change pages just by clicking on the screen. Some gps displays can't be run by touching, there are buttons to use. So look for the preferred one according to your choice.
Battery power
You need to use the gps watch that can serve you a long time as you have to complete the 18 holes round. Most of the batteries last long for 10hours-18 hours.
If you have a battery of short time service, you will have to charge it frequently. You won't be able to complete more than one round. So priority should be given in this section too.
Check the durability
The Gps tracking system should give you a long service. Suppose you have a gps watch but you have found it damaged after playing a round in the rain. What's now? No worries. Just keep in mind that your gps device should be waterproof that will last long even after carrying during the rainy weather.
App integration
You will find some golf gps systems with app integration. These apps will help you fix your next target and plan for it. You can easily set up your upcoming golf tournament.
The app integration will also offer to print reports of data and scores. So hurry up! Check the app integration and pick yourself up! You can now challenge your friends to a golf competition.
Included Courses
Connecting the gps device to the computer and looking for courses to download isn't a difficult process? Interested in an easy way? What about pre-loaded courses?
Yes, some gps tracking systems have 30,000 to 45,000 and more pre-loaded golf courses. You don't even need to connect to Wi-Fi for the courses if you can buy such a device available on the market.
Price
As you will get what you pay for, it depends on you what price is perfect for you. But keep in mind that it's better to have something high quality at a little bit high price than to have something inconsistent.
Review
Before buying a watch or whatever it is, you should go through the reviews of other customers. It will help you understand the quality of the product, consider it in the right way & then choose properly.
Frequently Asked Questions About Golf GPS
How do golf gps watches work?
Golf gps watches work with the location's signals sent from the satellite networks. Every gps device contains this network that can easily locate two or more satellites and most of them can accurately calculate the distance.
How accurate are golf gps?
Golf gps watches are very accurate. But it also depends on the quality features created by the manufacturers. However, a gps is considered to be quite accurate when it is within a 5-meter radius.
Which is better? Golf gps or rangefinder?
A golf gps watch is better than a rangefinder. As the tracking system of a gps is quicker than a rangefinder, we must consider the former one as the better. To be more specific, golf gps will give you the yardage stats quickly whenever you start your game. On the other hand, a rangefinder will be slower to receive the number and provide you with time. But it needs to admit that playing with both will make your game faster than playing with one.
What is the extension for golf course gps?
Golf gps courses extend from 30,000 to 45,000. Some of these courses can automatically start without any connection. Some need a Wi-Fi connection to run.
Conclusion
As a GPS system helps a golfer to know the distance accurately, as a golfer you should know which one is the best and which best one will be perfect for you. And this is why we gave a description of 10best Golf GPS with their features, advantages & disadvantages. You can now make your own choice.