Australian professional golfer Greg Norman says, "Happiness is a long walk with a putter". Not only Greg Norman, but every golfer also loves to walk with his favorite golf club in the golf course whether it is a putter or driver or hybrid club. With every shot he makes in the golf course his golf club gets filthy and mucky. The mud, dirt, humidity, and other earthy materials of the golf course make the clubs grimy. And no pro golfer likes to play his shots with a dirty golf club. So it is very crucial to maintain the cleanliness of the golf clubs.
We have designed this article with easy steps to polish the golf clubs as home. If you are a beginner golfer you will find this article very useful. Also, you can check our article on the types of golf clubs if you wish to know more about different types of clubs.
How to Polish Golf Clubs
Polishing golf clubs is an integral part of maintaining your golf clubs. It keeps your club clean and also saves your club from rust and other earthy material. It is a very quick procedure to reinstall the shine of the clubs. Sometimes beginners find it too difficult to polish a golf club because they have no idea how to handle this job. Therefore we have come out with 8 easy steps for polishing the golf clubs.
Step 1: Make A Detergent Solution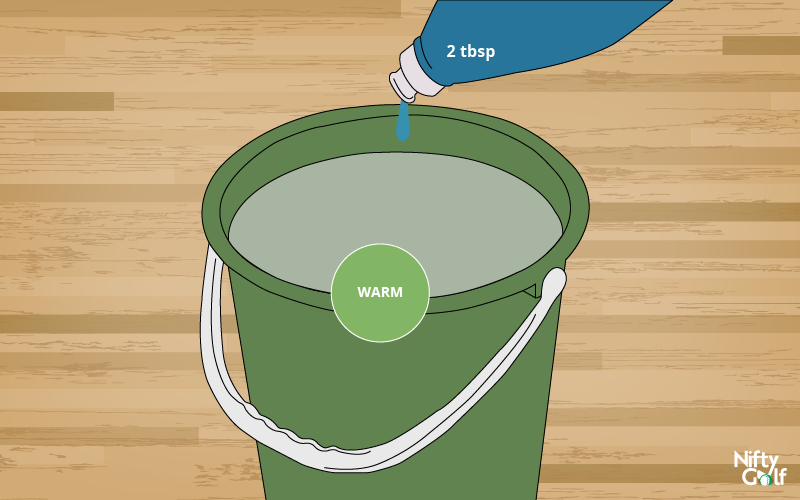 It is very easy to make a solution for cleaning your golf clubs. Just fill your bucket with lukewarm water. Now add a gentle amount of detergent into the water. Use 2 US tbsp (around 30ml) detergent for a bucket filled with water. You can also use any type of liquid dish soap. But we suggest you use eco-friendly biodegradable detergent for this step as it is good for our environment.
Step 2: Soak your golf clubs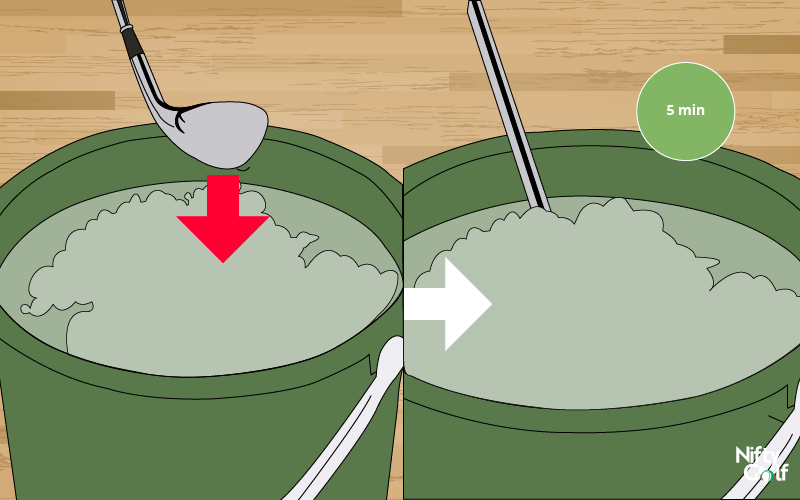 Once you have made the water- detergent solution now it is time to soak your club in that solution. You need to place the bucket by a wall so that the club can lean up against the wall. Your club will not fall down in this way. Place the clubface into the water and leave it for at least five to ten minutes. It will dissolve the water-saturated dirt in the water. Moreover, it will loosen up the dirt placed in the clubface.
Step 3: Scrub your club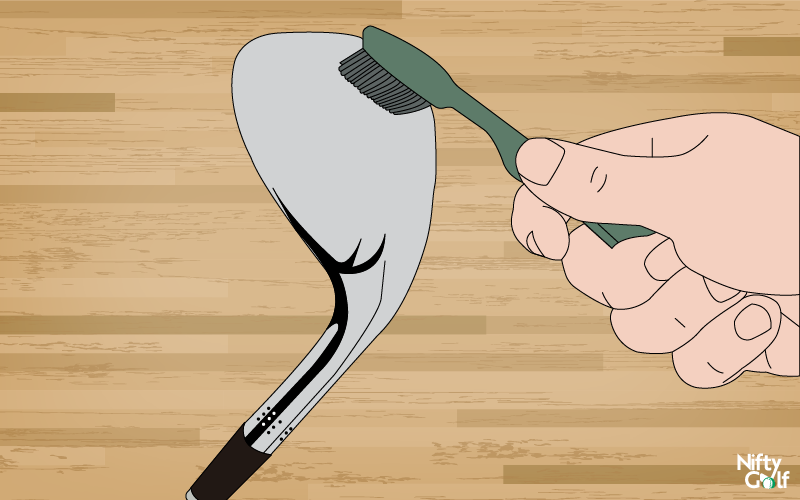 Now take out your club from the water detergent solution. Use a spare toothbrush to scrub away the dirt on the club. Scrub the club in a gentle way. Give some extra effort to the dirty areas like the grooves of the head or the handle of the golf club.
Step 4: Dry out the club
Allow your club to dry out for a couple of minutes. Sometimes the oxygen from water reacts with the iron properties of the club and produces iron oxide that causes rust. To get rid of this kind of situation use a soft cloth to rub the club from top to bottom.
Step 5: Prepare the polishing cloth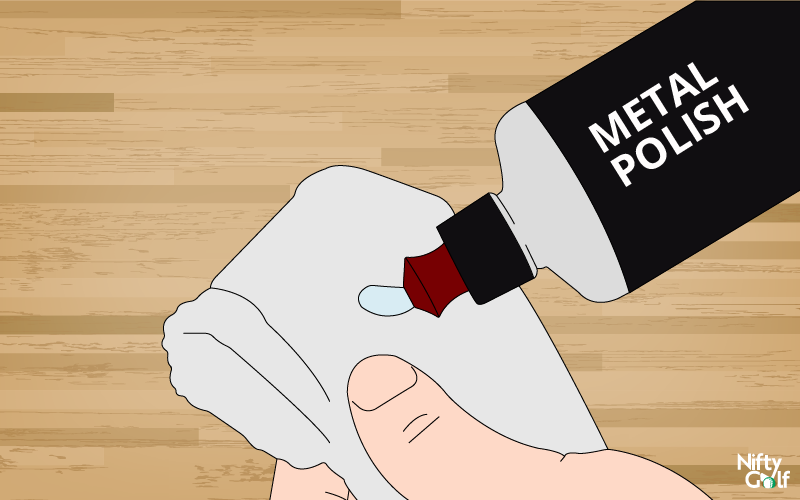 Now it is high time to be prepared for the polishing. Take the polishing cloth. If you do not have a polishing cloth with you there is no problem at all. You can use a simple cotton cloth. A microfiber cloth can provide a good performance too. Take a small amount of metal polish on the cloth. Always remember that metal polish is very strong therefore do not use much polishing agent.
Step 6: Polish your golf club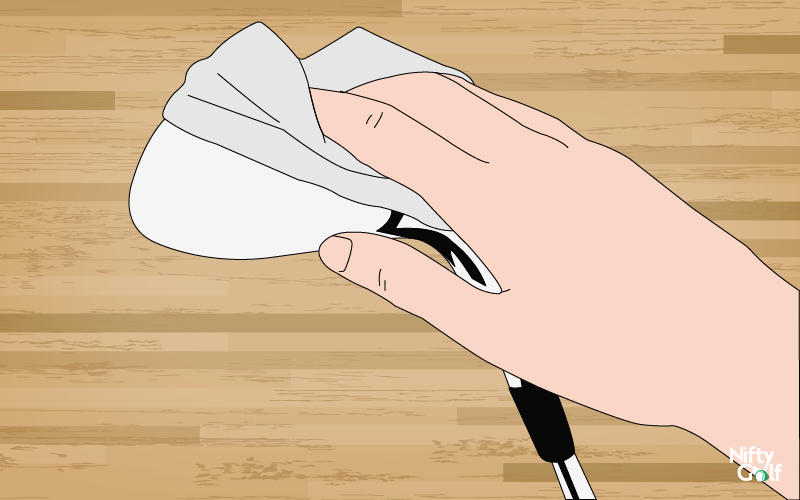 Coat the metal areas of the golf club with the metal polish. Use the cloth to apply a very thin coating on the club. Do this process in a gentle way. If you have a sensitive skin issue, we suggest you wear hand gloves before starting this process.
Step 7: Leave the polish to dry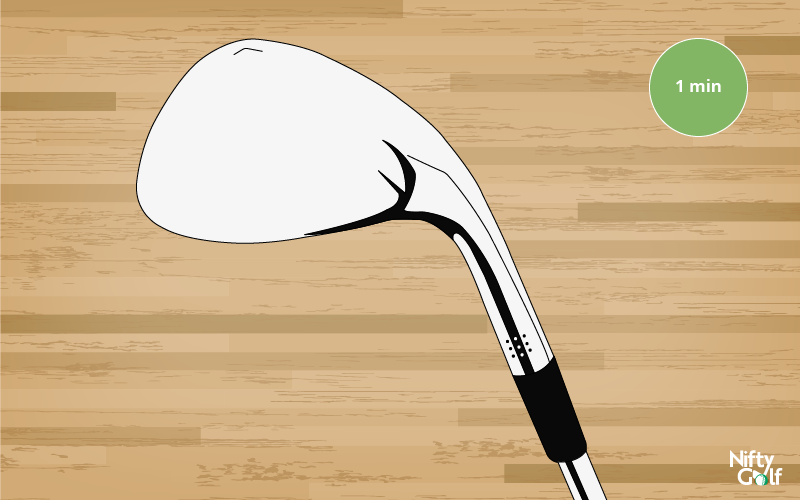 Once you are done with the polishing process, now it is time to dry out the polish. Leave the polish on the club to dry out for a minute. It does not take more than one minute to go through this process. But if the instruction on the metal polish cover has another mention of time follow that strictly.
Step 8: Wipe off the club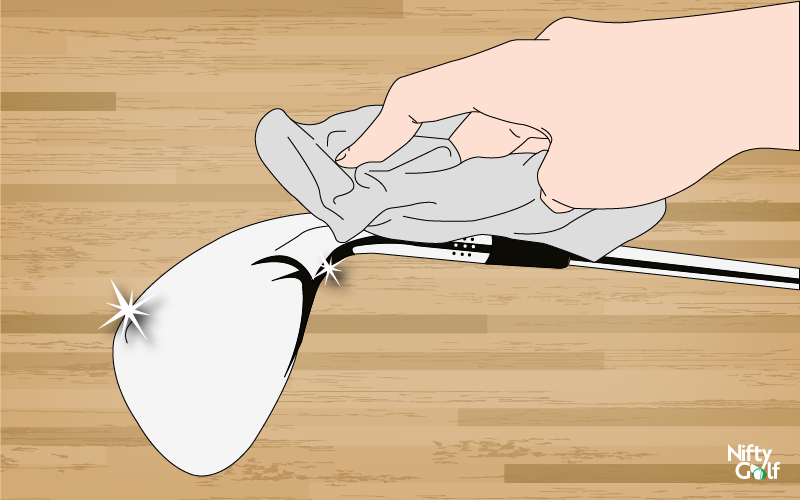 Use a soft cloth to rub over the golf club. If you want you can use another clean piece of polishing cloth to wipe off extra polishing agents on the club.
Some tips
Always use lukewarm water to make the water detergent solution. If your water is too hot it may prove vital for you.
Use a piece of clean and soft cotton cloth for your club.
Do not use a steel scrubber to scrub your golf clubs
Conclusion
Polishing is a very easy process to do for your golf club. If you follow our instruction to polish your club you will get an amazing result. So try to polish your golf clubs at least once a month. Let us know what you think about our article. Leave your opinion in the comment box.