Callaway has successfully established themself as a trusted brand for golf equipment manufacturers by providing top quality products in the last 38 years. The Epic Forged Irons is one of those very popular and proven golf clubs that you can rely on. In this article, we will be explaining why this Irons is so good to have by reviewing it upon its features, performance, pros, and cons.
Price can be overlooked if the quality is that much good, isn't it? If you believe the same then you should go through this article. It might take just about 10 minutes to read out, but trust me, it's worth the time. Because we will be demonstrating how Callaway epic forged iron is a go-to iron and a value for money purchase.
Let's go to the review analysis right away.
Callaway Epic Forged Irons Review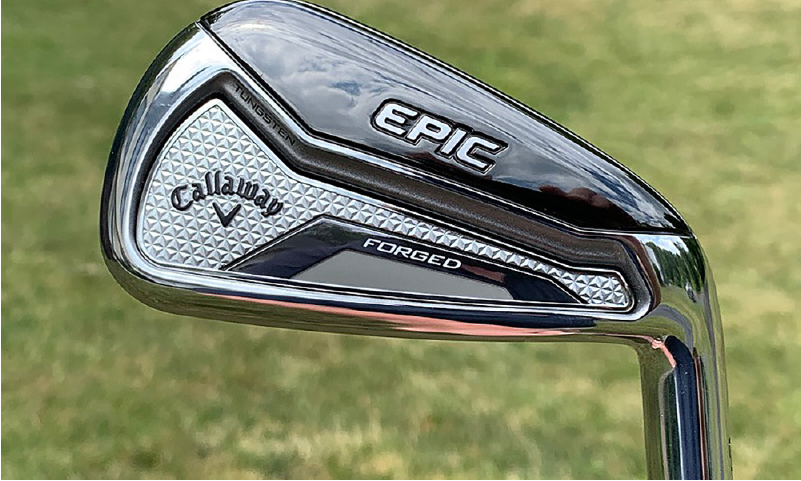 Like the other clubs from Callaway, the Epic Forged Iron features some quality technological advanced materials. The club is designed with a forged 1025 carbon steel body along with 360 face cup technology and equipped with a high-COR to ensure ball speed to provide you the most carry distance and total distance covered than most other irons in the similar price range.
Callaway Epic Forged Irons will let you experience remarkable success by providing a good distance with control. It is a very lightweight iron that also gives you a premium look and feels.
We have reviewed the Callaway Epic Forged Iron from several points of view like its looks, performance, features, and specs. Upon analysis, our experts have listed both the pros and cons of this club too as a highlight of the review analysis in the end.
Look & Feel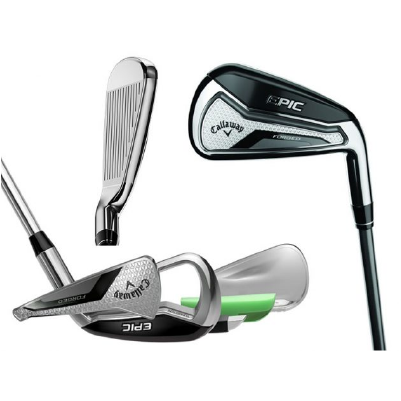 The Callaway Epic Forged Iron has the simplest of the looks for an iron. A solid iron look on the face with silver color through-out the shafts and clubface. A texture of the black polish is designed on the back of the clubhead. The Callaway logo at the back looks great as well, you may customize the shaft and grips though while placing an order from the Callaway website.
Being used for the forged carbon steel on the body, the iron is very light in weight. But it is very strong to provide powerful shots and cover a good distance. It gives a crisp sound at impact if connected well with the ball and firm feelings in your hand at the same time.
Performance
| | | | | | | | | | | |
| --- | --- | --- | --- | --- | --- | --- | --- | --- | --- | --- |
| | Speed | Launch Angle | Total Spin | Carry | Total | Push/Pull | Side Spin | Decent Angle | Peak Height | Off Line |
| Last | 111.6 mph | 20.8° | 5400 rpm | 158 yds | 169 yds | 2.2° R | 28L rpm | 47.4° | 32 yds | 6.1 R yds |
| Avg. | 103.8 mph | 21.9° | 4869 rpm | 146 yds | 158 yds | 1.3° R | 71 rpm | 45.5° | 29 yds | 5.0 R yds |
There are hardly any irons in the market that provide better or stronger lofts than Epic Forged Irons. So, if you are fond of stronger lofts than this should be your first choice of irons.
In the image, you can see the average performance of the epic forged irons. And it is very much satisfying for most of the golfers. And there were some disagreements as well. The ball speed was on the higher side so it covered a good amount of distance. And this could possibly for the higher loft as we mentioned earlier.
Apart from the ball speed, carry, and loft, the epic forged has 2 other major benefits. They are low spin and highly forgiving. The Callaway golf company states that the Epic Forged irons are their first clubs (irons) that have been manufactured using a Suspended Tungsten Core. The Tungsten Core precisely locates the Center of Gravity (CG). The low spin feature and the high forgiving was the point of debate among the researchers. Actually, it depends on your playing style.
So, moreover, the highlight of this iron is as follows:
Provides better ball speed
Gives good carry distance
Low spin but forgiving
Promotes a controlled launch and consistent distance
Great looking & Lightweight
Gives firm grip and strong in-hand feel
Features and Benefits
The performance we found probably is a result of the following features and specifications. Let's have a look at these features.
Ultra-Premium Forged Design
The Forged Design gives an incredible sound and feels at impact from a Forged 1025 Carbon Steel body. Besides the club has patented urethane microspheres that absorb unwanted vibration without slowing the face.
Suspended Tungsten Core
The Epic Forged Iron is the first iron that has the Suspended Tungsten Core feature. The benefit of this tungsten core is that it suspends the custom tungsten weight using Urethane Microspheres. Besides, it allows you to position the Center of Gravity precisely.
360 Face Cup
Callaway has successfully introduced its 360 Face Cup to the golfers. The face-up benefit you by providing flexes and releases at impact to promote fast ball speed.
Pros
Covers a good distance with increased ball speed
Provides enough forgiveness
High Loft
Technologically advanced
Cons
Costly than other Irons
Low on spin
Final Verdict
If you are trying to improve your golfing skills and performance with Irons that provide strong loft for more distance and less spin for more controlled shots then Callaway Epic Forged Irons is highly recommended.
You may check other models like Apex 19, Big bertha if you have a low budget unless this iron is an ideal choice for beginners to start off and develop their gameplay gradually.
Write back to us if you have any queries or add something to this article that we may have missed to include. Your participation will be appreciated.